We've been using Math U See, and while I love the manipulatives, and adored how it taught place value, since then I've just had a hard time following it. I take too long trying to memorize the lessons to present them myself, and my son doesn't really follow the videos well (it just works better when I'm teaching it).
Meanwhile, we've have a lot of success with All About Spelling and it's SO easy. It tells you what to say, then has a exercise to practice that, and breaks everything into very small parts (like each lesson has several sections…very easy to follow).
UPDATE
A lot of people weren't understanding why I wasn't getting what I wanted from Math U See.
To clarify, I want something where the lessons are laid out like this…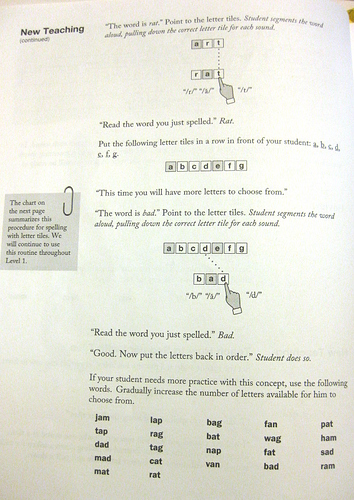 That's the middle of an All About Spelling lesson. See how it tells you exactly what to say and exactly what to have your child do in short easy to follow sentences with illustrations. If I posted the whole lesson you would see that any extra info (like why this works, or alternative ideas if your child struggles, or background info) is separate from the lesson ( in a sidebar or header paragraph) so that when you are following the lesson you can just read line by line.
HERE'S WHAT I DON'T WANT
In Math U See all the extra info is mixed in with instructions on how to teach the lesson. To convert that I'd have to (and have) rewritten it as an outline, or just memorized it. I'd rather just open it up, skim it, and then read the lesson line by line to my child. I have no problems with the methods of Math U See. It's just that the program doesn't outline it's lessons in a simple, easy to follow way the same way All About Spelling does.
Here's an example of how a Math U See chapter looks…see the difference?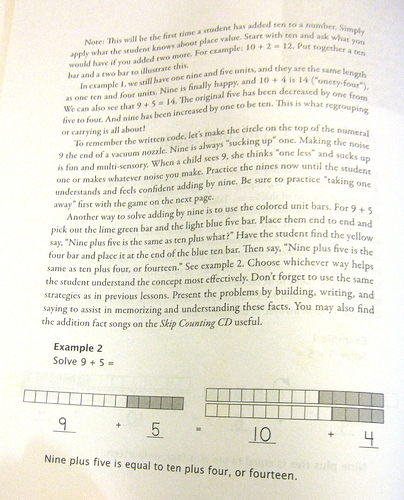 I would love to find a math program laid out more like All About Spelling. Any suggestions?